5 things you need to know about motorhome travel with a toddler
---
Adventurer, journalist and presenter Pip Stewart took a trip in an Autograph 74-4 motorhome with her partner Charlie and daughter Willow. Read on to find out how they got on with their first motorhome experience.
Watching the sunset at Budle Farm Campsite next to the Bailey Autograph
---
You know that awkward feeling you get when you're trying something new? The one where you look like a total wally as you try to get to grips with things you're not familiar with? Well that was my partner, Charlie, and I as the wonderful Bob and Cristina from Bailey showed us around our Autograph 74-4 motorhome – home for the next ten days.
Our 16 month-old daughter Willow was also in tow. Hungry, tired and intent on pushing the hazard button as Bob and Cristina were patiently trying to explain how a motorhome works. Clearly well versed with toddler meltdowns the team handed Willow a Bailey Bear. It kept her quiet for all of five minutes.
"Oh man, this is going to be interesting," I thought as the keys were handed over and we began our drive up to Northumberland.
"You were listening to the bit about the chemical loo, right?" I asked as we pulled away from Bailey…
"Um, I think so?" came Charlie's tentative response.
Thankfully, like most things in life, practice makes perfect and we honestly had one of the best trips we have ever done. However, for anyone considering motorhome travel with a toddler these would be our top tips.
1. Stay local on the first night
If, like us, you've never used a motorhome it might be worth familiarising yourself with it before you go too far. We rang up my Mum and Dad and asked if we could stay on their drive for the first night so we could figure out how to use the electric and water hookups, use (and empty) the chemical loo, stock the fridge and generally just get used to life in the motorhome. Doing so gave us the confidence to travel further afield.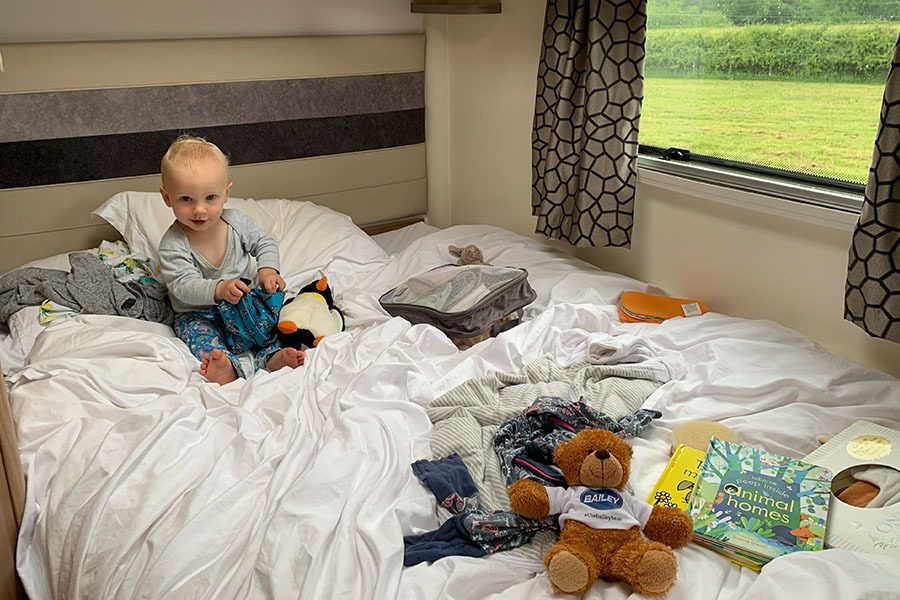 Its always good to familiarise yourself and your family with the motorhome when you begin to travel
---
2. Don't be afraid to ask for help
We had a rather embarrassing incident when we stopped to get petrol and AdBlue (a substance I'd never previously heard of) – we couldn't figure out where the petrol cap was! Thankfully, after a quick call to Bailey we established that it was in a rather obvious position behind the passenger seat door. No-one seemed to bat an eyelid at our incompetence – a theme that continued when we reached campsites and had questions about where to empty waste water and how it all works. You realise the community is a super friendly bunch and it's definitely worth asking for help if you need it. It makes life so much easier, especially when juggling kids.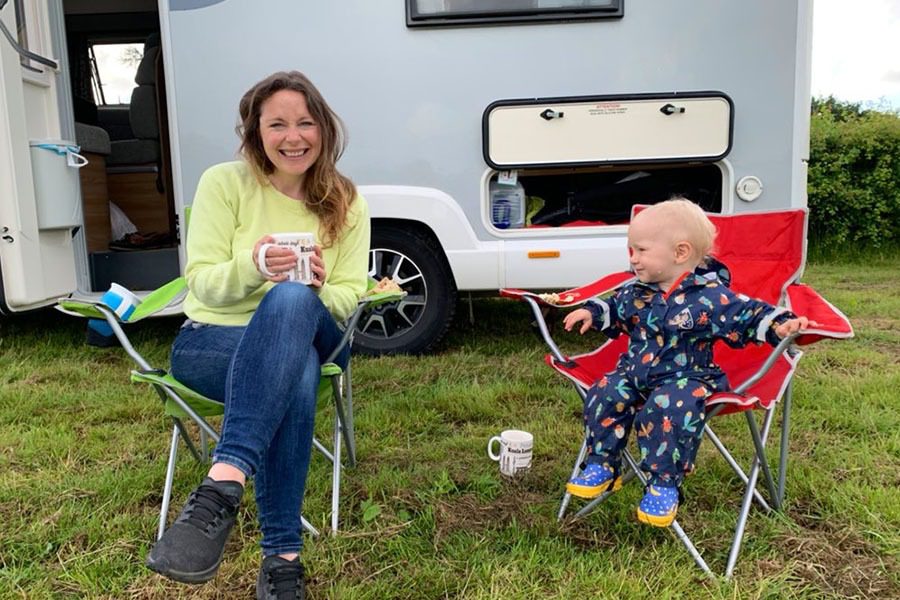 Time for a tea break
---
3. You can mix life on the road with a daily routine
If your little one has regular naps we actually found motorhome life really helpful for this. If we wanted to travel somewhere we'd either wait until she'd woken up in the bed or she would sleep in the car seat on the way somewhere. We found Willow really took to motorhome life as she began to find her own rhythm and routine in our little home and then had the excitement and stimulation of exploring new places.
Also, the look on her face when we opened the curtains in the morning was something we'll never forget. She'd spend ages looking out the window at rabbits jumping around the motorhome or the beautiful views that stretched before us. She really was in her element. Mealtimes are also super simple because you have a fridge, microwave and oven at your disposal too.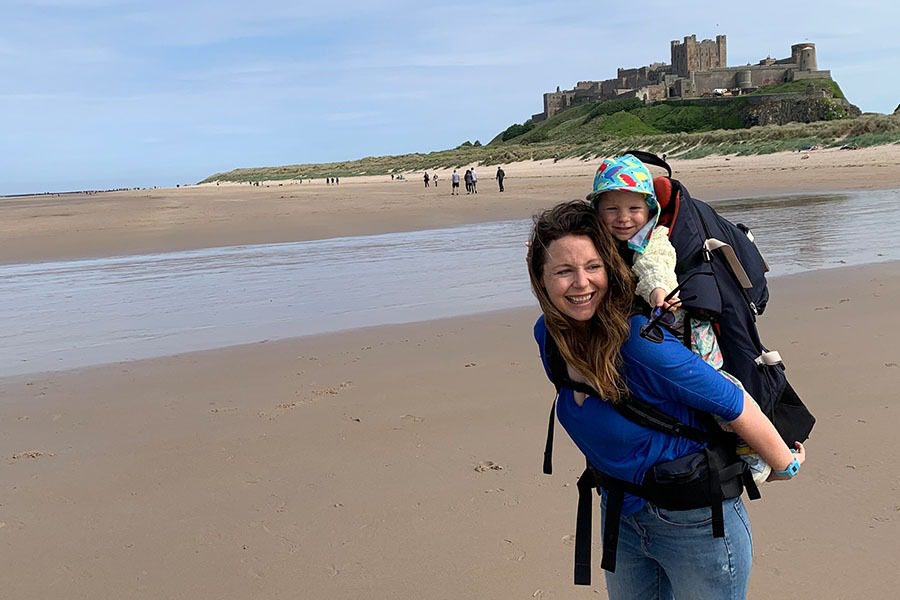 Fun on the beach by Bamburgh Castle
---
4. Pick campsites with space for them to run around
We were blown away by how many campsites had play areas for kids (which was useful to burn off energy before bed – especially after being in the car seat for a while). Our top pick of campsites would have to be Budle Farm Campsite in Northumberland. It's a no-frills campsite (no shower blocks etc) but because we had everything we needed in the motorhome this wasn't a problem. The views of the bay were incredible and it's an hour walk along the coast to Bamburgh Castle and the beautiful white-sand beach it's set on. Rabbits were everywhere and Willow loved walking to the beach and running around. Once Willow was in bed Charlie and I rather enjoyed having a sundowner with the most spectacular view in front of us.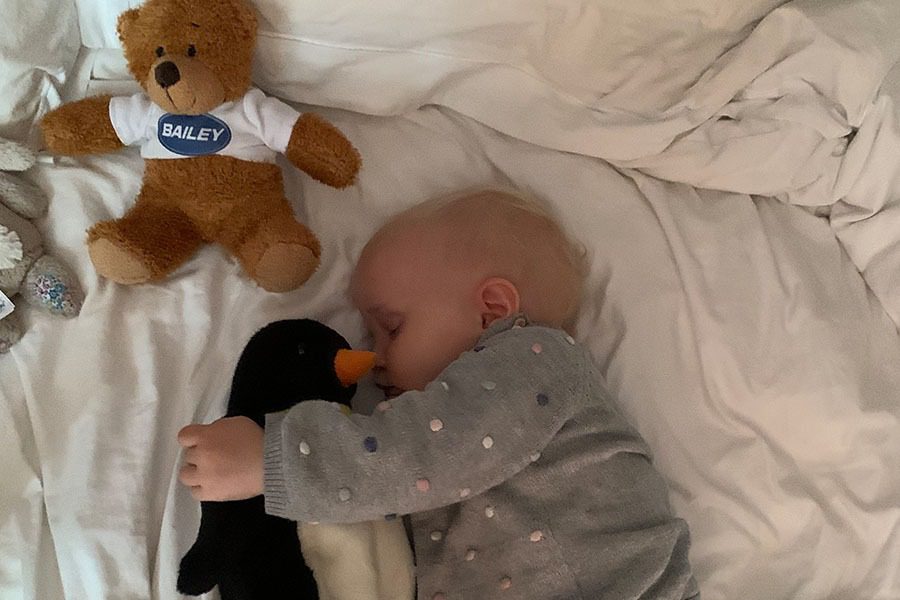 Travelling with a toddler in a motorhome helps with keeping to a routine – including nap times
---
5. Book ahead and travel in short bursts
As a couple we were definitely the sort of people to wing it and turn up places last minute. However, when you have a small person in tow we've found a bit more planning is required. I would say given the current state of the world and how popular campsites can get, if you can plan ahead and book it really does make life easier. The same goes for attractions etc. I'd also recommend travelling in short bursts to give your little ones a chance to stretch their legs. We'd break up journeys with a hike or an activity and then would get back in the motorhome for nap time. That way you balance distance and enjoyment.
Finally, if you're considering it I'd say GO FOR IT. It was honestly so much fun and we are definitely inspired to do a longer trip.
Related Posts :
---
---
---